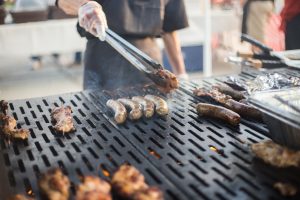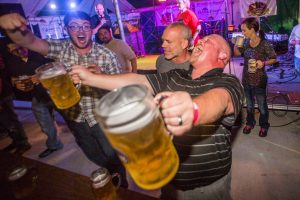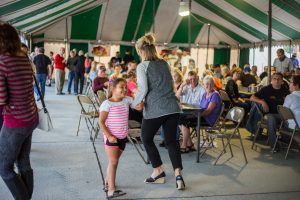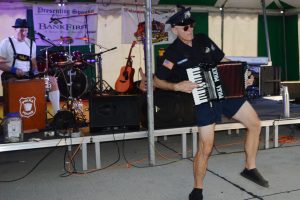 If you haven't experienced Oktoberfest in Norfolk, Nebraska, then you are missing out on one of the most exciting and entertaining weekends in the area. Locals would agree, this weekend is right up there with any national holiday celebration. Go ahead and ask any Norfolkan their favorite celebration in the city, and we will be shocked if Oktoberfest doesn't come out of their mouth with a smile.
Oktoberfest started in 1810 in Bavaria to celebrate the wedding of Prince Ludwig I. Every year, this historical celebration begins in the third week of September. Today, Northeast Nebraska residents celebrate the area's German heritage and the fall harvest with this two-day family festival. Oktoberfest grows yearly with live music, German food, beer garden, and family entertainment. Held in conjunction with the Lion's Club Parade and the River Point Arts Festival, this unique festival is a must see!
2016 is bigger and better than ever! Here are the Top 13 Reasons to attend Norfolk's 2016 Oktoberfest Family Festival:
NO COVER CHARGE

The only cover they charge at this event is a smile at the entrance! You will have access to the full venue with world-class performers, a great view of the Saturday night Husker Game, and 2 days of non-stop fun!

FREE RIDE HOME

After you have the night of your life at Oktoberfest, attorney's Stratton, DeLay, Doele, Carlson & Buettner are partnering with Checker Cab Company to make sure you get home safely.

JUDD HOOS AND THE RUDE BAND

The entertainment committee isn't messing around! The packed music schedule is going to appeal to all ages. Friday night's line up will feature polka police and Judd Hoos. Saturday will be jam packed with musical performances by The Polka Tunes, Leo Lonnie Polka, and The Rude Band. Don't miss this epic line-up!

DOUBLE BACK HANDED LAYOUT

Oktoberfest is ready for you and 8,000 of your closest friends! The layout is doubling in size. This means everything is bigger and better just for you.

HAPPY HOUR

Every good beer garden needs a good happy hour. On Saturday, between the hours of 12:30 and 2:30 all Veterans and Seniors will receive a dollar off cold brews and discounted food items.

BIG WHEEL RACES

What happen when two services clubs in Norfolk want to organize a show-down on 3 wheels? An epic collaboration is formed, and the Oktoberfest big wheel competition becomes legendary. You don't want to miss this exciting event when the Lion's Club and Kiwanis Emerging Leaders are running the show.

GIANT SCREEN = GIANT PARTY

You might say, "But Oktoberfest, the Cornhuskers have a game at 6:30 on Saturday night!" well, put on your Husker gear for the biggest tailgate in Northeast Nebraska; because, Oktoberfest will feature a special Husker party and show the game on an enormous LED screen! Now, what were you saying?

FREE BEER

Yes, you read that right! Whip out your best German outfit because if you wear traditional Bavarian Dirndl or Lederhosen, Oktoberfest is going to welcome you with a free cold brew or root beer float!

BUCKET PONG

Pong is definitely happening and with an expanded layout comes more buckets and more brackets. Burger King of Norfolk is running the show and they dishing out over $1,500.00 worth of cash prizes!

MORE BEER, MORE FOOD, MORE OKTOBERFEST

Remember that time you had to wait in line for a refreshing beverage? Not this year! Try going to one of the multiple beverage stations around the venue and while you're at it, sample some authentic German cuisine.

MASSKRUGSTEMMEN

What the heck is Masskrugstemmen? Here's a hint: you take a stein of beer and hold it out in front of you for as long as possible and inspire generations with your strength and stamina. Its the stein holding competition, its free, and it's calling your name.

RADTOUR RIDE 

Radtour is German for bycicle ride! Particpants bike through the streets of Norfolk and into the countryside on this scenic adventure! This family bike ride boasts 90 riders and starts and ends at Oktoberfest. Afterwards, whip off your helmet, flip your hair, and strut your stuff into the crowds because you earned yourself a free refreshing root beer float or bubbly beer.

KID ZONE

The kids Zone is back! Scientific studies show that enormous inflatables to jump, bounce, and slide on are favorable in youth. This is a family festival after all. Did we mention there are root beer floats?