People of all ages, backgrounds, and abilities participate in professionally led arts education program at the Norfolk Arts Center every month. A community heavily enriched in the arts has many benefits, such as advanced economic growth and generating a sense of shared culture. It enriches the K-12 education and serves as catalyst for innovative community-wide collaboration. These programs also help to foster personal development and enhance quality of life, as to awaken a spirit of creativity in everyone, whatever their level of ability or artistic potential.
"Norfolk Arts Center primary focus presently involves reaching students, which form the bedrock of the arts community. The nonprofit has come a long way since its 1978 founding, its programming now spans the developmental spectrum, from cultivating a young artistic class to introducing an eclectic variety of Nebraska artists to giving musicians a proving ground at its First Friday open mic."
Keep reading below for a featured article from HearNebraska.org on the Norfolk Arts Center!
_____________________________________________________________________________________________________________________________________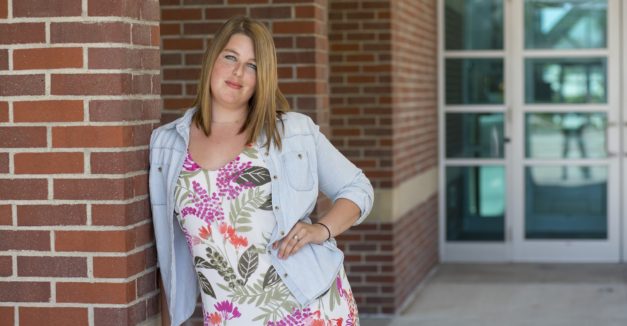 The Norfolk Arts Center's aim: ground-up community enrichment
* * *
The Norfolk Arts Center sort of looks like a public school at first approach.
It's deceiving due to its progressive art exhibits here, in early June, but fitting because of its current emphasis on youth education. Program director Denice Hansen and I are slowly making our way throughout the building, its classrooms right inside the east doors, and I can't help but feel sucked back into elementary school when we reach them: sinks filled with used paint supplies, projects laid out on desks, cubby holes for storage.
It feels joyfully lived-in as a creative outlet for children. Students from age 3 and up participate in the seasonal education program, which covers skills from basic fundamental color theory and holding utensils to specific focuses on charcoal and watercolor. There's even an adult's sushi class.
Hansen explains the NAC's primary focus presently involves reaching students, which form the bedrock of the arts community. The nonprofit has come a long way since its 1978 founding, then with the purpose of enriching Northeastern Nebraskans' lives through the visual arts. After erecting its current home two blocks north of downtown in 2000, its programming now spans the developmental spectrum, from cultivating a young artistic class to introducing an eclectic variety of Nebraska artists to giving musicians a proving ground at its First Friday open mic.
Sunlight pours into the hallway that runs down the building's center, with offices, galleries and educational space on either side. As Hansen and I enter the exhibition room, a stop-motion animation of a whiteboard plays on-loop, created by a trio of Omaha artists. One person starts drawing from an inspirational stimulus (sound, a shape, etc), initiating a kind of conversational piece as each ensuing artist erases and rearranges the prior work. For this reporter, the piece communicated true collaboration — trusting each other with a larger, ever-evolving project.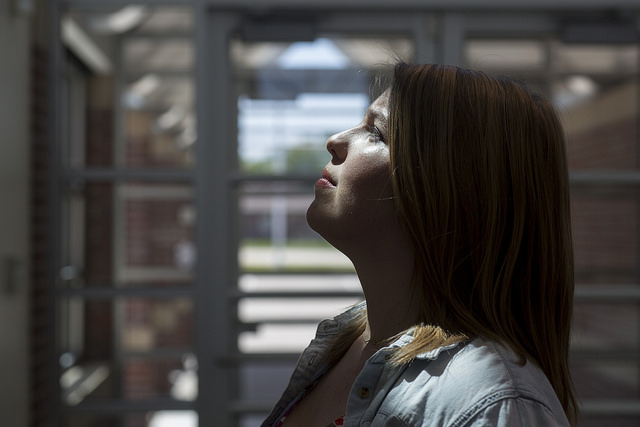 In a way, the exhibit resembles the art center staff, now at its most robust since the organization's founding. Kara Weander-Gaster, NAC's Executive Director for 10 years, handles memberships and the Art is for Everyone Scholarship, which helps children from low-income families engage in NAC art lessons. Operations coordinator Benjamin Baker helps manage memberships and marketing, but also coordinates the organization's volunteer program. Hansen curates visual and performing arts. And recently hired education director Kristina Swantek teaches classes and devises new curriculum.
Hansen says there is a teacher shortage in the public school system, just one for six elementary schools, only 15 minutes of art per week.
"There's a huge gap," Hansen says. "If we can step in and close that gap."
Weander-Gaster later emphasizes the importance of introducing art education to more students.
"I believe it strengthens young minds and I believe the arts teach all the things that we really want our adult leaders to have: think creatively, problem solve, team building," Weander-Gaster says.
Swantek's hiring has opened the door for NAC's education expansion in the last couple of years. It will offer 60 classes this coming fall (up from 30 a year ago) with an average of five or six per class. Swantek joined last year to accommodate the jump, but also because the organization's growth as a whole outpaces its capacity.
Though overproduction is a good problem to have — it means the NAC is reaching the town of more than 24,000 it serves — staffing is not a new issue for the organization, according to Hansen. Following the opening of its brand new building in 2000, the first five years saw five different executive directors. Its staff doubled when Weander-Gaster took the helm in 2005; the organization has since added four more employees.
Hansen's hiring is a microcosm of why the NAC continues to build, her enthusiasm for making a difference in Norfolk palpable. She started in January 2015, having cut her teeth as a graphic designer at Hartington Shopper a commercial printer in the town of 1,500. She graduated from UNO in 2009 with degree in graphic design and marketing, took an internship at Wright Publishing, married in fall 2010, and then she moved back.
Hansen says she has a tattoo on her back that says "inspired by love, destined for greatness" in Latin. When she was 18 she thought "doing big things" meant leaving the stepping-stone of Omaha for some bigger city like New York. When she and her husband moved back to Norfolk, she was initially disappointed, fearing she had backslid from greater opportunities.
The arts center changed her opinion about small-town possibilities and success.
"I have the power to make a difference in my community," Hansen says. "If I see that there's a need in the community for performance, for visual arts, I get to make that happen and bring the culture to the people."
In the main hall, an eclectic exhibit by Wayne State graduate Sharon Nicole Cole hints Hansen's curation philosophy. The atrium typically features these kinds of up-and-coming artists. Sometimes that means non-traditional art like Cole's (dark body-shaped figures adorned with patches, buttons, yarn and other odds and ends) makes its way into the fold.
Hansen says introducing new artistic styles to Norfolk, and therefore challenging convention, is vital.
"We feel like we have the responsibility to expose the community to different kinds of art, not just what they've grown up [with]," Hansen says.
Weander-Gaster's story speaks to the importance of the center's outreach philosophy. She grew up in nearby Wayne, a town of 5,600 in which artistic options were sparse. She recalls seeing her first ballet at 8 years old. The rarity of such an event didn't hit her until later on.
"I didn't always realize how fortunate I was," she says. "Ballet's don't typically come to rural Nebraska."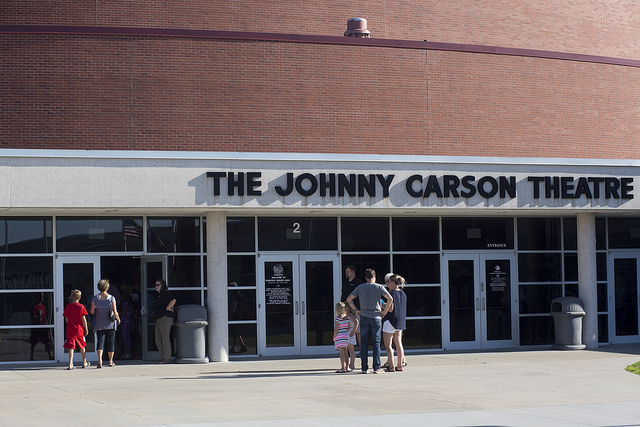 The Johnny Carson Theatre, among other venues, hosts live productions curated by The Norfolk Arts Center | photo by Andrew Dickinson 
Norfolk Art Center's performing arts programming brings in children from all over north central Nebraska for live theater in places like the Johnny Carson Theater and Northeast Community College. Getting kids in front of local productions with local actors, she says, fights the impression that they aren't possible where they live.
"We have [the opportunity] to make those experiences for kids more available," Weander-Gaster says.
With all of its programming, Weander-Gaster isn't delusional about NAC's place in the community. Gauging that barometer is a constant process, one they're always revising. As a unit, the staff knows it's only a piece of what Norfolk's arts community has to offer.
"Norfolk is a big enough community that the Arts Center cannot supply all of the art for the entire community," Weander-Gaster says. "But what we can do is make sure there's fertile ground for the arts to flourish."
[This story runs as part of the 2016 Good Living Tour storytelling project, thanks to Humanities Nebraska, Nebraska Department of Economic Development, Peter Kiewit Foundation, Center for Rural Affairs, Pinnacle Bank, Nebraska Loves Public Schools, Union Pacific Railroad, Viaero Mobile, Huber Chevrolet and Sandhills Energy. To read original article please visit hearnebraska.org]